Creativity is our weapon of resistance. It is how we can best express our identity, our living heritage, not only what we are or what we were, but we aim to be. And although the place of culture and artists in our society is often questioned, it is they who are able to transform our entire symbolic universe into something perennial. Culture is therefore not a luxury.
As a public space, one of our tasks is to foster creativity. Not only allow it to be expressed through us for it to be received and judged by the public, but rather to encourage it, awaken it, put it at risk, forcing it into uncomfortable positions. And one way to do that is through a dialogue with opposing viewpoints. And if dialogue is a conversation between two people, motivated by the desire to understand each other, we believe this is one of the strengths of our Mediterranean culture.
That is why we are especially interested in giving ongoing support to artists who perform contemporary dance with emotion and humanism, a dance that is political and which suggests new poetic forms, which transmits social values that are, at the same time, primitive and highly sophisticated and modern, cooperative, curious, that reinvent themselves and are inspired by nature.
We want this dialogue and creative freedom to infuse every single corner of the Mercat de les Flors. We aim to arouse the curiosity of our audience as one of the main sources of knowledge. We want you to find in the Mercat de les Flors the dance that speaks to you.
Download the pdf with the program of all the season
__________________________________________________________________________________________________
VIDEO PRESENTATION of the 2012-2013 SEASON at MERCAT DE LES FLORS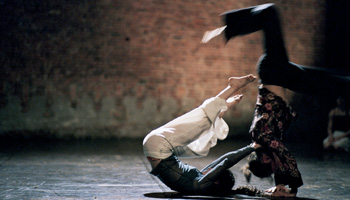 __________________________________________________________________________________________________